Mechanic in Nunawading
Some of Our Services

Logbook Servicing
As a reputable auto repairer, Parkmore Auto Service, Nunawading can conduct log book servicing for you on all new LPG, diesel and petrol vehicles – allowing you to keep your new car warranty, and save you money and the hassle of servicing at your vehicle's dealership.
Roadworthy Certificates (RWC)
A roadworthy inspection is where a qualified mechanic does a thorough check of your vehicle to ensure that it is safe for regular road use. Parkmore Auto Service is an accredited VicRoads Licensed Vehicle Tester, so we can carry out these inspections for you to help transfer or sell your used vehicle, or re-register it for road use.
Tyres
Investing in a proper selection of tyres can save you big bucks in the long run. Using our industry experience and expertise, we can walk you through the best options for your driving style and needs, as well as helping you with supply, fit and balance tyre services.
---
Windscreens
Minor damage to your windscreen may not seem like a significant problem, but the truth is that your windscreen is an essential structural element of your vehicle: it helps support the roof in the event of a crash or roll. Even a small chip or crack could jeopardise the glass and your safety. At Parkmore Service Centre, we can repair your windscreen in a flash at competitive prices.

LPG Conversions and Repairs
Want more bang for your buck? Converting your car to LPG reduces your environmental impact and could save you 50% off what you would pay for other fuels like petrol. We have been doing gas conversions since 1986 and are licensed by VicRoads for automotive alternative fuels.
Clutch and Transmission Repairs
Our experienced team of clutch and gearbox specialists can carry out all major and minor clutch and transmission repairs at competitive prices. We offer transmission rebuilds, exchange units and repairs, in addition to clutch replacement, gearbox reconditioning and repairs to vehicle hydraulics. So, if you're looking for a professional and affordable clutch replacement or gearbox repair service, give us a call or drop past our workshop!
---
Brakes Repairs
Hailed as one of your vehicle's most critical safety features, having well-functioning brakes is essential. Like other parts of your car, they are subject to wear and tear, particularly with the stop-start nature of city driving. Poorly maintained brakes affect your vehicle's stopping power in an accident, but also increase wear on your tyres and other parts of your vehicle. If you're noticing brake squealing or grinding noises, or if your brake pedal is feeling spongy, book in a brake system inspection with us. We can also look after your trailer or caravan brakes!
Auto Electrical
Our workshop is equipped with the latest in diagnostic tools to locate problems in your vehicle's electrical system. If your car is having trouble starting or you have another electrical problem, call Parkmore Auto Service for a consultation!
Injector Cleaning
Clean injectors are crucial to keep your car running smoothly and to increase your fuel economy. Common rail diesel injectors have tiny holes that block easily and should be cleaned regularly to extend the lifespan of the injectors. Get in touch with our friendly team today to book in an injector cleaning service!
---
Minor/Major Servicing
If you've got a problem, chances are we've got it covered! At Parkmore Auto Service, we cover all general mechanical repairs and all minor and major servicing on all makes and models. No job's too big or small!
Air Conditioning Servicing and Repairs
Your vehicle's air conditioning system not only keeps you cool in summer, but it also demists a foggy windscreen in winter and can remove humidity. Regular servicing of your vehicle's A/C by Parkmore Auto Service will ensure your car remains in top condition year-round.
Diesel Repair Specialists
We specialise in diesel repairs for any vehicle make, size and model. Our industry training, technical excellence and second-to-none customer service will guarantee your diesel engine optimal performance and reliability, as well as a clean fuel economy.
Nunawading's Best Mechanic
Here at Parkmore Auto Service, we are passionate about providing excellent automotive services that are tailored to your car's needs. Our well-equipped mechanical workshop is decked out with the very best in auto electrical technology so that we can give you the best products and car services available.
With decades of experience under our belts, Parkmore Auto Service has established a reputation for being the best mechanics in Nunawading and the surrounding eastern Melbourne suburbs, such as Mitcham, Forest Hill, Blackburn, Vermont, Ringwood and more.
Parkmore Auto, Nunawading has a comprehensive range of automotive repairs and services; these include roadworthy certificates, auto electrical repairs, general servicing, brake and clutch repairs and services, air conditioning repairs, diesel repairs, and many other minor or major servicing requirements you may have.
For us, it's all about providing quality and affordable car repairs and services, paired with excellent customer service and considerable attention to detail.
We take great pride in our work and will always go that extra mile to ensure you get back on the road as soon as possible, with cheap and high-quality car services. To learn more about what makes us the best mechanics in Nunawading, be sure to check out our comprehensive services and book in your vehicle today.
We're available to call, email or book online.
---
---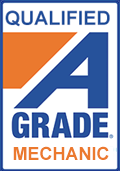 What Our Customer Say About Us
Great service and most importantly, I trust them. I have used them in the past 7 years ... highly recommend.

Friendly, professional service! Finally a mechanic I can trust - I'll definitely be taking my car back to Parkmore Auto in the future.

Couldn't be happier with ray and his team. they did a fantastic job and did it quickly! thanks again!